Natural Skin Rejuvenation to Erase Years
You may not be aware that you're walking around with your own personal supply of bio-identical youth serum.
There is nothing safer, more natural or more effective than utilizing the power of your own biologyto revitalize your skin. The latest technology in natural skin rejuvenation is Autologous Platelet Rich Plasma (A-PRP). Autologous means derived from the same individual–the patient is the donor and recipient. A-PRP uses your own blood and contains no animal or synthetic products.
The procedure is simple: a small amount of your blood is drawn and centrifuged, which separates the platelets. The growth factors naturally found in your blood plasma are activated with a sterile calcium solution, making them more powerful. The serum is then injected into your skin, which stimulates your own stem cells to regenerate and repair the tissues of your body.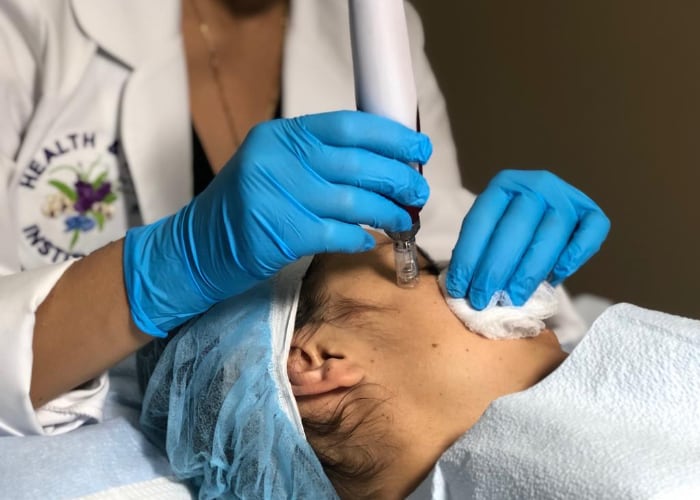 The localized delivery of this high concentration of platelets results in a natural process that reverses common signs of aging on the skin. When the A-PRP serum is re-absorbed, the body starts producing its own collagen. The power of nature and your own blood work to regain lost volume and to diminish wrinkles, stretch marks and scar tissue.
Several steps are taken to make the procedure as comfortable as possible. First, a local anesthetic cream is used on the patient's skin to lessen sensations from the injections. A delicate pediatric-gauge hypodermic needle is used to reintroduce the activated growth factors to the needed areas.
Of course, there is also the peace of mind that this serum is not a toxic bacterial concoction! There is no risk of autoimmune rejection or allergies because the serum consists of the patient's very own plasma. There could be mild bruising and/or swelling for few days, which can easily be covered with makeup, but no downtime is needed.
A-PRP improves the skin gradually, providing a long-lasting effect (18 to 20 months)
without the dramatic changes associated with surgeries or synthetic fillers. Depending on the level of correction needed and magnitude of the desired results, patients may want to receive a series of 2 to 4 A-PRP treatments over a period of 3 to 4 months.
Besides being one of the most effective and safe technologies used for facial rejuvenation, A-PRP is also used to improve the quality of skin on the hands, neck, chest, decolatté area and abdomen. It's also used to treat patients with severe burns and to relieve the chronic inflammation and pain of osteo-arthritic joints.
Do You Think PRP, Ozone, and Prolotherapy Can Help You?
Scheduled Appointments are Necessary due to our Detailed Evaluation and Excellent Quality of Care
At Health & Hope Institute we provide the highest quality PRP Treatment in Orlando, FL and surrounding areas
Our services include PRP injections for skin rejuvenation, joint regeneration and hair restoration. Prolozone injections for muscle and joint pain and fat burning. We also provide Gentle Acupuncture, Herbal Medicine, Nutrition Detox, Brain Therapy, Lymphatic Drainage, Visceral Manipulation, Neural Manipulation, Vascular Manipulation, and Craniosacral Therapy. We have been serving the community's rejuvenation and regeneration needs with Hackett - Hemwall Dextrose Prolotherapy since 2007 and PRP Prolotherapy Injections since 2008. We encourage our patients to allow nature and their heart to guide their healing journey.
Location, Parking, and Contact Info
We are located inside Alora Health Spa. From toll road 408 (East or West), take Exit 4 and head South on Hiawassee Rd. Go 2.5 miles on S. Hiawassee Rd, make a U turn at the light at West Pointe Blvd. turn R after the CVS, then make a quick L and drive in front of the building through the parking spots. Alora Health Spa will be on the R toward the end of the building. When you reach the stop sign at Via Venzano Ave. you will see a free 2 hr parking lot in front of you, across the way. There is handicap parking in the private parking lot behind the building.