Dr. Claudia Chica, PT, Dipl. CH, Dipl. Ac, DOM
My passion for healing the body, the mind, and learning about the patho-physiology (disease and function) of the human body began early in life. My parents always encouraged me to be my best and go further. I had many opportunities to witness & experience the power of natural medicine and healing miracles in our family, friends and myself.
At the age of 4, I ingested kerosene in a sudden accident and became seriously ill, developing recurrent Upper Respiratory streptococcus beta-hemolytic A infections and bronco-pneumonia, kidney deficiency and generalized osteoarthritis.
The effects of the accident lasted many years. I remember feeling myself gasping for air often and having severe respiratory distress, never being able to take full, deep breaths, as well as hair loss, neck tightness and generalized joint pain and inflammation.
At the age of 19, I received my first Acupuncture treatment and was able to take long and relaxed deep breaths for the first time since my near fatal childhood accident. After the treatment, I continued to breathe really well for several weeks. I immediately knew that I wanted to learn more about the healing art of Oriental Medicine.
In 1983 I graduated from high school as Valedictorian from Nuestra Señora de la Consolacion. In 1989 after five years of studies in Bio-Chemistry & Physical Therapy, I graduated from the Physical Therapy program at the internationally accredited University in Cali, Colombia, la Universidad del Valle.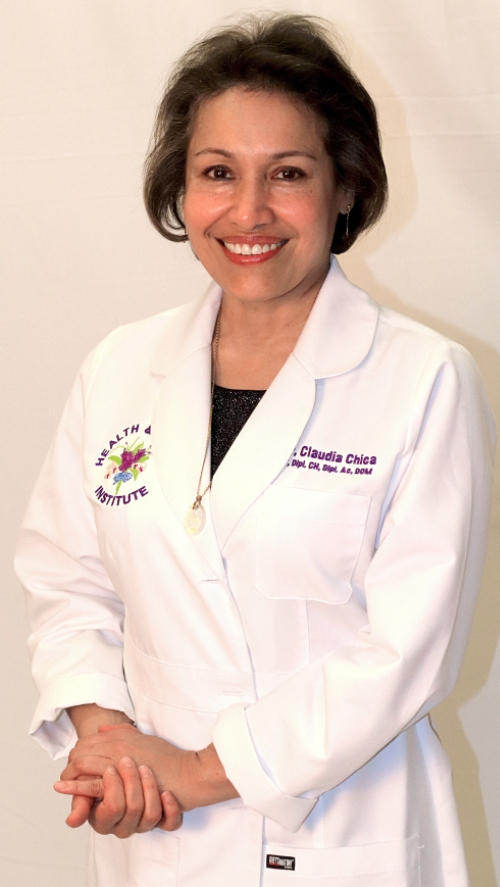 In 1991 I completed studies as an Acupuncture Physician, graduating from the Neijing School of Acupuncture in Cali, Colombia. Later that year my brother & I moved to the United States. While living in Pennsylvania, I completed an additional three and a half years of Oriental Medicine studies (traveling to 1.5 hours to Montclair, New Jersey several times a week after my normal 8 hr work day) specializing in Japanese Meridian Acupuncture with Master Kiiko Matsumoto and Extra Ordinary Meridians with Master Miki Shima, as well as studying Five Element Acupuncture.
In 1991, I began my Physical Therapy and Oriental Medicine in Pennsylvania where my Family and I lived for 13 yrs. I worked at an Outpatient Rehab facility for 4 yrs and for Home Health Corporation of America. The last 3 1/2 yrs in the Mountains of the Poconos were dedicated to being in service as a part of the clinical staff at the Lehigh Valley Hospital Network.
In the mid 90's, I completed Dr. John Upledger's curriculum in Cranio-Sacral Therapy (CST) and after several years of practice in both children and adults, I was accepted as a Teaching Assistant for the Upledger Institute and a Preceptor for the Advanced CST Trainings.
In 1998, I discovered a notably different kind of palpatory skill and treatment modality; Visceral Manipulation. Since then I have become fascinated with the world of Visceral Manipulation, Joint & Spinal Manipulation & Vascular Manipulation with the world renowned Osteopathic Physician, Dr. Jean Pierre Barral. Jean Pierre introduced us to the work of his friend & colleague, Dr. Alain Croibier, French Osteopath, who taught us the Cranial Nerves and Neural Manipulation curriculum.
Jean Pierre also introduced us to the work of Jean-Claude Guimberteau, MD, plastic and reconstructive surgeon, who taught us about the intelligence and wisdom of the skin and how to treat dermal, neural, vascular, fatty and fascial restrictions, scars and conditions of the 'collagen fibers' and their relationship with the whole body in health and disease.
For more than 18 years, I have been training with Dr. Barral and Dr. Croibier, as well as some of their best instructors in the states, Ron Mariotti, ND, Gail Wetzler, DPT, Dee Ahern, DPT, Jean Anne Zollars, PT, Ken Frey, PT and many others. I've had the privilege of being a Teaching Assistant for the Visceral Manipulation Barral Institute courses for more than 9 years.
Upon moving to Florida, I completed one semester of Herbal Medicine at Dragon Rises College of Oriental Medicine and two and a half years at the Florida College of Integrative Medicine and graduated with maximum summa cum laude honors as a Diplomate in Oriental Medicine and a Master in Health Sciences, which also included a certification as a Diplomate in Herbal Medicine and Acupoint Injection Therapy.
Lately, I have invested 7 years studying the wonderful work of Bruno Chikly, DO, MD, who created protocols to treat the Primo-Vascular system and developed the Lymphatic Drainage and the Brain Therapy curriculums. I believe that the lessons of these modalities and treatments are far ahead of their time. I am passionate about discovering the blessings and the exquisite therapeutic reach of this work and I am grateful for the support of all of the Chikly Health Institute instructors, especially Molly B. Clark, PT who has helped me fall in love more and more with the miracles of this work.
I feel blessed and grateful to be able to deliver a very specific combination of all these very accurate and powerful Manual Therapy modalities, as needed, to provide highly effective and compassionate care to the communities God has entrusted me to serve.
I had the privilege of completing the Basic Toyohari (TH) Japanese Acupuncture Training in 2004 and the 2 year Advanced Toyohari Training in March 2007. Throughout the years, I continue to train with the Senseis from Japan and have attended several International TH Trainings in Tokyo, multiple National TH Trainings and many Local Kozato practices in Florida. Toyohari Japanese Acupuncture and Shonishin utilize gentle moxibustion and gentle sweeping, tapping, stroking and touching of the skin with rounded, blunt-tip tools, as opposed to inserting fine needles. I also received training in Shonishin Pediatric Acupuncture which is more than 95% non-insertive.
In the world of Injection Therapy, I had the privilege of training in Neural Therapy and removing Interference Fields in 2007 and 2011 with the late and renowned Robert Kid, MD and with Stan Swihart, DOM, ND.
Since 2007 I have been training and attending quarterly Injection Therapy Clinics and workshops with Stan Swihart, DOM, ND, in Prolotherapy Regenerative Injections, Vitamins and Nutraceuticals Injections and Homeopathic Injections.
At the beginning of 2008, I was introduced to the amazing regenerative power of the growth factors found in Platelet Rich Plasma and trained with Selphyl, one of the first companies that provided PRP Kits for skin rejuvenation in the USA.
As time passes, medical literature continues to document more and more anecdotal proof about the different uses and regenerative and rejuvenating benefits produced by the localized application of the concentrated growth factors found in the Platelets. Many more companies around the world have come to provide different advantages in quality, training, effectiveness and price. For the past 10+yrs, I am grateful to have been using some of the best Autologous PRP separation kits and companies available in the USA.
In January 2011, I started training with Robert Rowen, MD, in Oxidative Therapies, Prolotherapy Regenerative Joint Injections and Prolozone Injections. Since then, I have employed Ozone in multiple kinds of applications and concentrations to help diminish pain and improve joint function; enhance circulation; and increase vitality, longevity and balance the immune system.
Whatever your wellness and healing goals, there is always a natural therapeutic process that could enhance your experience, your well-being and your results.
My approach and strategy are gentle and caring, yet highly effective and modern.
I strive to consistently offer the best therapeutic protocols & cutting edge technology in my practice. I achieve this by continuously attending seminars and workshops lead by industry leaders in Physical Therapy & Rehabilitation, Integrative Medicine, Regenerative Medicine and Oriental Medicine. I desire to continue enhancing my palpatory, diagnostic and treatment skills in order to offer my patients the best possible care.
I look forward to meeting you and being in service with profound gratitude and a joyful heart.
Dr. Claudia Chica and Dr. Joya-Lynn Schoen
For 6 years I had the honor and the blessing of working in collaboration with a very dear friend, and one of my most influential Integrative Medicine mentors, Joya-Lynn Schoen, MD. 
Dr. Schoen has been a caring, persistent, and passionate pioneer in the field of Integrative Medicine, Hormonal balancing, Functional Medicine and Anti-aging medicine. 
After a prolific and fulfilling medical career helping thousands of patients regain their health, Dr. Schoen retired in the summer of 2016 and reunited with friends and family in California. 
I am forever grateful for everything I shared and learned from Dr. Schoen and will further my commitment to being in grateful and joyful service to the community. It is a highly regarded privilege to continue empowering the patients to make safe, wise and informed decisions concerning the latest advances in natural healing, nutrition, rejuvenation, longevity resources and wellness. 
I firmly believe that when addressing the body-mind connection and when given the right support, the body can and will move toward self-healing, self-regeneration and harmony.
Whatever your wellness and healing goals, there is always something we can do to enhance your healing experience and results.
I look forward to being in service with profound gratitude and a joyful heart.
Clinical Training and Qualifications
Brain Therapy (Chikly Health Institute – Bruno Chikly, MD, DO)
Lymphatic Drainage (Chikly Health Institute – Bruno Chikly, MD, DO)
Primo-Vascular System Assessment (Chikly Health Institute – Bruno Chikly, MD, DO)
Visceral Manipulation (Barral Institute – Jean-Pierre Barral, DO, PT)
Neural Manipulation (Barral Institute – Alain Croibier, DO)
Vascular Manipulation (Barral Institute – Jean-Pierre Barral, DO. Alain Croibier, DO)
Spine and Joint Manipulation (Barral Institute – Jean Pierre Barral, DO. Alain Crobier, DO)
Visceral Dermal Relationships (

Jean-Claude Guimberteau, MD and Olivier Bazon, PT)

Injection Therapy Certification (Florida College of Integrative Medicine – Isali Ben-Jacob, DOM)
Prolotherapy (trained with Dr. Stanley Swihart, DOM – Dr. Robert Rowen, MD)
Neural Therapy (trained with Dr. Robert Kidd, MD)
Prolozone (trained with Dr. Robert Rowen, MD)
Advanced Toyohari Japanese Acupuncture (trained in Japan and USA)
Shonishin (Japanese Pediatric Non-Insertive Acupuncture)
Cranio-Sacral Therapy (Upledger Institute – Dr. John Upledger, DO)
Somato-Emotional Release (Upledger Institute – Dr. John Upledger, DO)
Barral Institute Visceral Manipulation curriculum levels 1 through 4 (Barral Institute)
Upledger Institute Cranio-Sacral Therapy 1, 2, and Course Preceptor for Advanced CST1
Injection Therapy may not be well known but its time has come to be a strong part of alternative health care. Its ramifications are enormous, as it has the ability to open and free up stuck and restricted tissues and scars.
Dr. Chica is a master of this 'Art', while understanding all its applications for one's health; executed by her with respect for the body and person, with expertise and gentleness.
One of the things since the therapy with Dr. Chica I have noticed, is how much freer my lungs are and how much easier it is to take a deep breath, loving that!
The results were no less than amazing and the biggest surprise was how really pain free the treatment was, such an added bonus.
– Dr. Lisa Upledger
Do You Think PRP, Ozone, and Prolotherapy Can Help You?
Scheduled Appointments are Necessary due to our Detailed Evaluation and Excellent Quality of Care
No Guarantee of Healing Policy
Despite our genuine commitment to be in service, noble ethical standards, and professional competence while providing the most appropriate and high quality level of care, there are no guarantees of successful treatment for any specific condition, nor promises of healing.
View Full Statement on our FAQ Page